Brief Introduction of the Nomex insulation paper:
The Nomex insulation paper is a three-ply laminate with polyester film between two layers of Nomex® paper.
About the Nomex paper:
Ideally suited for a variety of temperature ranges and applications, laminate insulation products based on Nomex® paper help enhance the performance and reliability of rotating machines.
About the polyester film: It has excellent mechanical properties, dielectric strength, and dimensional stability, as well as low water absorption, and good resistance to most chemicals. These general purpose films are often used for industrial laminates and electric motor and cable insulation.
The NMN laminates made with Nomex® papers are used in UL systems typically up to 180°C. These laminates are broadly used in the production and repair of motors, generators of many sizes and temperature classes. The most important applications for these laminates are slot liners, wedges and phase insulation in Class H motors and generators, as well as in large and specialty Class F motors.
1. Temperature F/H class
2. Excellent heat resistance, dielectric properties and mechanical strength.
3 Good cutting resistance, overload resistance, high rigidity, good compatibility with insulating paint
4. The slots, turns and linings of F-class motors and appliances are insulated.
5. Form: roll, sheet, strip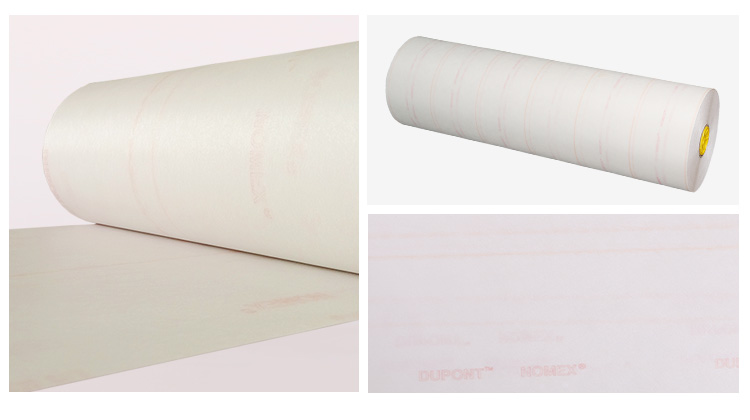 Applications
Nomex insulation paper has good mechanical properties, such as tensile strength and edge tear resistance, as well as good electrical strength. NMN Flexible Laminates has the excellent high temperature resistance of NOMEX. It is mainly used for slot, slot cover and phase insulation in low-voltage motors.
In addition, it can also be used as interlayer insulation for transformers or other electrical appliances.
The thickness of the material is 0.15-0.45MM, and the inner diameter of the NMN insulation paper composite material core is 3 inches.
It can be supplied in rolls, or cut into reels or sheets. Each roll of NMN insulation paper is about 60-70KG.
The length can be determined according to customer requirements, and the width can be from 3.5MM to 914MM.

Previous: Nomex insulation paper(NHN)
Next: PMP Insulation Paper