Brief Introduction of the Polyester Shrinking Tape
Polyester shrinking tape is made of a special compound fiber of thermal contraction.after binding and dried at 105℃ for 10 minutes,it will be shrunk to 70%,which is good at a solid binding and at a compatibility with transformers.in this way,it will be utilized in the transformer oil at 105℃ for a long time. Cotton tape made of pure cotton or 60%cotton.glassfiber tape made of glassfiber. Used in transformer and electrical motor.
It is a kind of banded-shaped insulation material woven by polyester fiber.
It has heat resistance and insulation property, high heat shrinkage rate, high hot tensile strength, no loose or dropping, and no pollution to the oil.
Main features of the Polyester Shrinking Tape
—Simple, easy to use heat shrink polyester film tape with a wide range of applications.
—High compressive force ensures effective compression, shaping and consolidation.
—Excellent release characteristics from a wide range of materials.
—Significantly improve the product performance and overall quality level of the transformer.
—High insulation level, good electrical performance; dielectric constant 3, between oil and cardboard, super stable and low loss.
—The heat shrinkage is up to 30%, and the binding is firm and durable, without rebound or slack.
—The tensile strength is high, and the mechanical strength is more than tens of times that of cloth tape.
—Pure chemical substances, no burrs, off-line, markings and other defects on the outside, and no dirt and other substances harmful to electrical insulation.
—It has been approved by UL (NO.: E310670) ,ROHS and REACH test.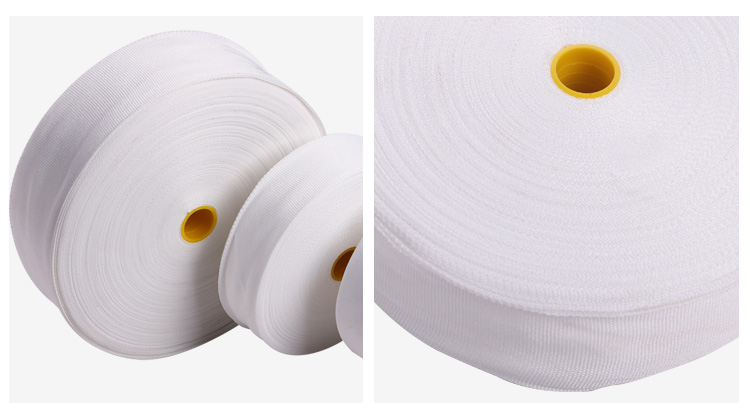 Applications
Polyester Shrinking Tape is suitable for the binding and fastening of product line packages and other components of motors, transformers, reactors, etc. The workpiece treated by the product can save the amount of impregnating paint, and the appearance is standardized and the overall integrity is good.

Previous: Non-alkali Fiberglass Tape