Description of Polyester Film:
Polyester film - (PET Film) exhibits superior strength, heat resistance, and excellent insulating properties. The unique qualities of Mylar® film (PET Film) created new consumer markets in magnetic audio and video tape, capacitor dielectrics, packaging, and batteries.
Polyester Film is made from Polyethylene terephthalate by casting & Biaxially oriented.
About the polyester film, Yanan has two different types:
6020-Polyester Film For Electrical Insulation (Transparent)
6021-Polyester Film For Electrical Insulation (Milky white)
The different between the 6020 and 6021:
6020/6021 polyester film is biaxially oriented polyethylene terephthalate (PET)film.6020 is transparent film,6021 is milky white.
6020 polyester film always as a laminate with other substrates.6021 can be used as an electrical insulation directly, it has good dielectrical and high mechanical properties.

Features of the Polyester Film
—Good mechanical properties and folding tolerance
—Resistant to oil, fat, dilute acid and alkali, most solvent.
—Has excellent temperature tolerance.
—Low gas and vapor permeability, and good resistance to gas, water,
oil and odor.
—High transparency and glossy, also can block ultraviolet ray.
—Can be directly used in food packing since it is non-toxic, unscented with good sanitary security.
—Model: 6020,6021
—Insulation class:E Class (120℃)
—Color:6020 transparent,6021 translucent
—Width: 1010mm
—Thickness:0.025mm-0.35mm
—The Class E 6020 transparent and 6021 translucent polyester film have been approved by UL (NO.: E310670) ,ROHS and REACH test.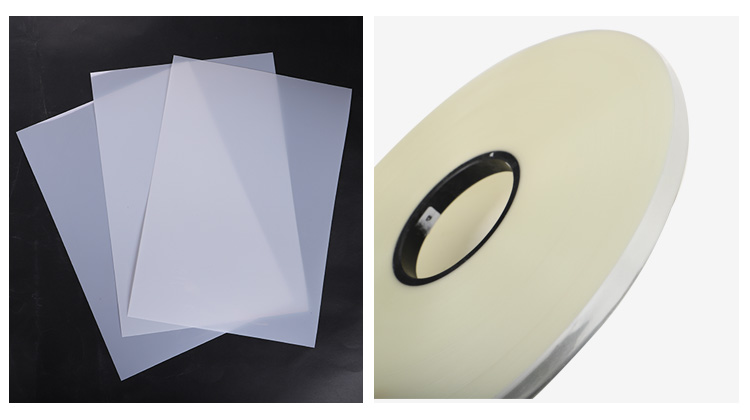 Applications
—Widely used for the end wrap insulation
—Liner insulation of electrical oils
—Electromagnetic wire wrap insulation
—Cable wrapping on motor
—Transformer or other electrical appliances
—It also be used for packaging, glass-steel, collar of clothes, etc

Previous: Diamond Dotted Film
Next: Polyimide film