Brief Introduction of Diamond Dotted Insulation Paper
—Diamond dotted Insulation Paper is made of electrical grade Insulating paper coated with B-stage heat curable epoxy resin on either or both sides. The base paper is made from unbleached 100% Sulfate kraft pulp.
—The epoxy resin is applied on base paper in diamond pattern, which is consisted of 9.5mm x 9.5mm diamonds with 15.9mm center spacing.
—Diamond dotted paper has good dielectric properties and mechanical properties after being heat solidified.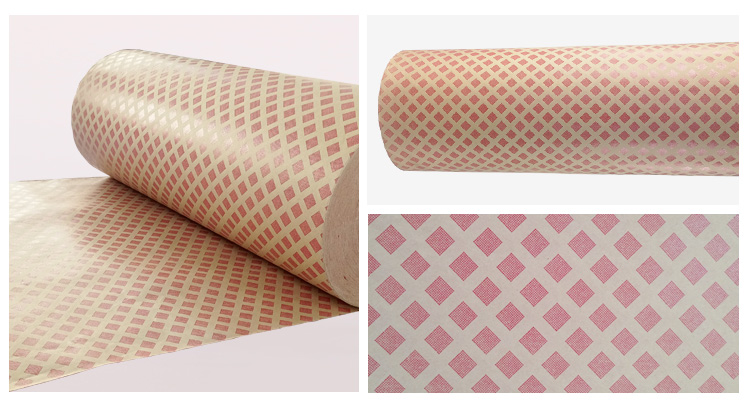 Main Features of this Diamond Dotted Insulation Paper:
—Insulation class A (105 °C) according to according to IEC 641
—Width: 960mm
—Thickness: 0.08mm,0.13mm,0.18mm,0.20mm,0.25mm , Can be customized
—Kraft paper, 100% sulphate pulp
—High purity and mechanical strength
—Baked enamel coating: Epoxy resin , rhombic, one or both sides
—Good compatibility with liquid dielectic after the baked enamel coating has hardened.
—Care should be taken that the that the layers to be baked remain closely pressed against each other during baking time
—It has been approved by UL (NO.: E310670) ,ROHS and REACH test.

Applications
1, It is to be used in oil-immersed transformers for the insulation between of coils and between layers of oil immerged power distribution transformers.
2, The Diamond Dotted Paper to be used in oil immersed transformers, for coil insulation. On the insulation layer, there is a layer dotted epoxy resin that will be changed with high temperature change that is to be called as felt.
Previous: Epoxy Prepreg DMD
Next: Insulation Crepe Paper